The Alternative: Most of What You Believe About Poverty is Wrong
Author Mauricio Miller merges heart and soul with system thinking to yield a prescription that can change the narrative around poverty.
Barefoot Guide 5:
Mission Inclusion contains stories from 34 practitioners in 16 different countries on how they are tackling the deep challenges of exclusion and coming up with creative, workable solutions.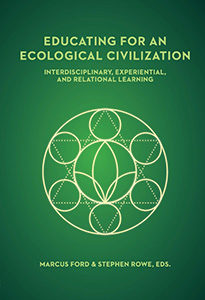 Educating for an Ecological Civilization edited by Marcus Ford and Stephen Row
These essays describe features of an emerging, relational vision of civilization and some of the educational practices it suggests.
A Field Guide to Ripple Effects Mapping by editors Scott Chazdon, Mary Emery, Debra Hansen, Lorie Higgins, and Rebecca Sero is freely accessible for download. Ripple Effects Mapping is a participant-engaged process that can capture the impact of complex programs and collaborative processes.
No More Heroes: Grassroots Challenges to the Savior Mentality by Jordan Flaherty celebrates grassroots challenges to the savior mentality and highlights movements focused on real, systemic change from the Arab Spring to Black Lives Matter.
Student Development and Social Justice: Critical Learning, Radical Healing, and Community Engagement by Tessa Hicks Peterson explores ideas of personal transformation, social change, intercultural understanding, and critical community engagement in higher education.